Implementing Electronic Portfolios Through Social Media Platforms: Steps and Student Perceptions
David W. Denton, Seattle Pacific University
David Wicks, Seattle Pacific University
Abstract:
Over the last two decades, students and teachers, across educational levels and disciplines, have been subject to a variety of school reform efforts. Nevertheless, some instructional practices, such as portfolio assessment, persist and grow in popularity even in the midst of changing educational reform goals and shifting priorities. Teacher education programs have used paper-­based portfolios for more than three decades. Recently, institutions have migrated to electronic portfolios since these provide several advantages. Early models of these systems required special technical skills, hardware, or fee-­based contracts with service providers. The newest iteration of portfolio platforms are based on social media applications, which are easy to use, free, and customizable. However, the accelerated adoption of social media applications as repositories for student portfolio content has produced several gaps in the literature. Three of these include steps for implementing electronic portfolios in social media platforms, instructional methods for soliciting quality entries from students through questions and prompts, and student perceptions about using social media as a repository for electronic portfolio content. Results from a case study identifying student perceptions of combining social media and electronic portfolios are examined. Future lines of inquiry are discussed.
Link to article: Implementing Electronic Portfolios Through Social Media Platforms: Steps and Student Perceptions
Denton, D. W., & Wicks, D. Implementing electronic portfolios through social media platforms: Steps and student perceptions. Journal of Asynchronous Learning Networks, 17(1), 125–135.
Categories:

ISTE 2 - Design and Develop Digital-Age Learning Experiences and Assessments, ISTE 3 - Model Digital-Age Work and Learning
Tags:

asynchronous learning networks, blogging, bPortfolio, case study, david wicks, education reform, ePortfolio, learning effectiveness, seattle pacific university, social media, student satisfaction, teacher education
About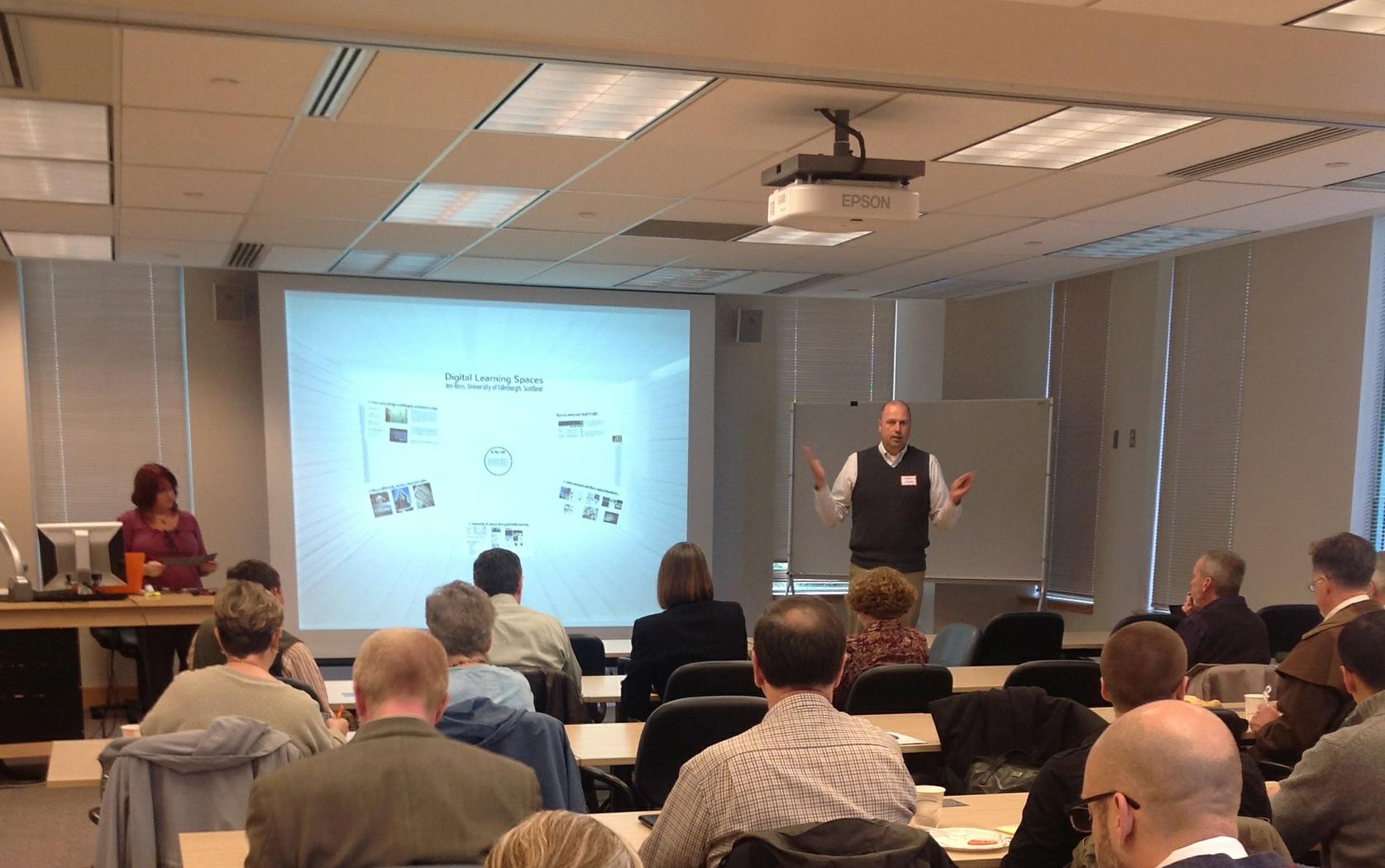 Educational Technology
David A. Wicks, EdD, joined the School of Education at Seattle Pacific University as an Associate Professor and Chair of the MEd in Digital Education Leadership after serving as Director of Instructional Technology for 15 years. Dr. Wicks has served the educational technology community in numerous positions throughout his career including: high school teacher, university lecturer, school district technology facilitator, multimedia author and project manager for an educational technology company.
Dr. Wicks' research interests include online and blended learning, learning spaces, computer-supported collaborative learning, and electronic portfolios. He is particularly interested in exploring how to enhance student engagement and achievement within digital learning environments.
Professor Wicks is committed to helping educators improve teaching, learning and assessment with digital tools. He actively shares and learns from teachers through social media. Examples of his work include: the design of a Web 2.0 electronic portfolio system based on WordPress, creation of a feature-comparison matrix for lecture capture solutions, and leading SPU's iTunes U project. He enjoys facilitating faculty learning communities on topics such as learning spaces, blended learning, and online learning. Dr. Wicks is a member of MERLOT, the Sloan Consortium, Northwest Council on Computer Education (NCCE) and the International Society of Technology in Education (ISTE). He serves as an Associate Editor for MERLOT's Teacher Education Editorial Board where he reviews learning objects and educational apps. He was recently honored for his work as conference chair for the 2014 International Symposium for Emerging Technologies in Online Learning.
Archives