Advice for mobile e-newsletter creators
When I first wake up in the morning I typically reach for my iPhone to find out what is new in  the world of educational technology. I subscribe to several e-newsletters, most of which are delivered in the middle of the night.  Some of my favorites include: SmartBrief on Ed Tech, Inside HigherEd, PadGadget, and EdSurge. EdSurge is my current favorite of favorites because it focuses on emerging educational technologies and the entrepreneurs who are making it happen. However, I have a small problem with this newsletter that I will explain later.
My typical workflow is as follows:
Wake up
Reach for my phone
Triage work-related email
Review ed tech e-newsletters, tweeting and plus-ing  some headlines and marking others to read later
My small problem is that some newsletters (e.g. EdSurge) are not formatted to be read on an iPhone as there is no way to comfortably zoom in on the text.  Other newsletters (e.g. Inside Higher Ed, PadGadget) make it possible to double tap to enlarge text while still seeing an entire line of text. Better yet, they provide links to open newsletter articles on their websites.  This allows me to use the Reader button in the address bar and make the text as big as I want.  The links make it easy to share content with my professional learning community through Twitter and Google+.
I have contacted EdSurge a couple of times about this issue. Each time they have kindly asked me to provide alternative examples. The video below is my attempt to explain how they can make their newsletter iPhone friendly so that I don't have to remember to read it later in the day when I am on my computer. Thanks for listening EdSurge and anyone else who wants mobile users to read your e-newsletters.
About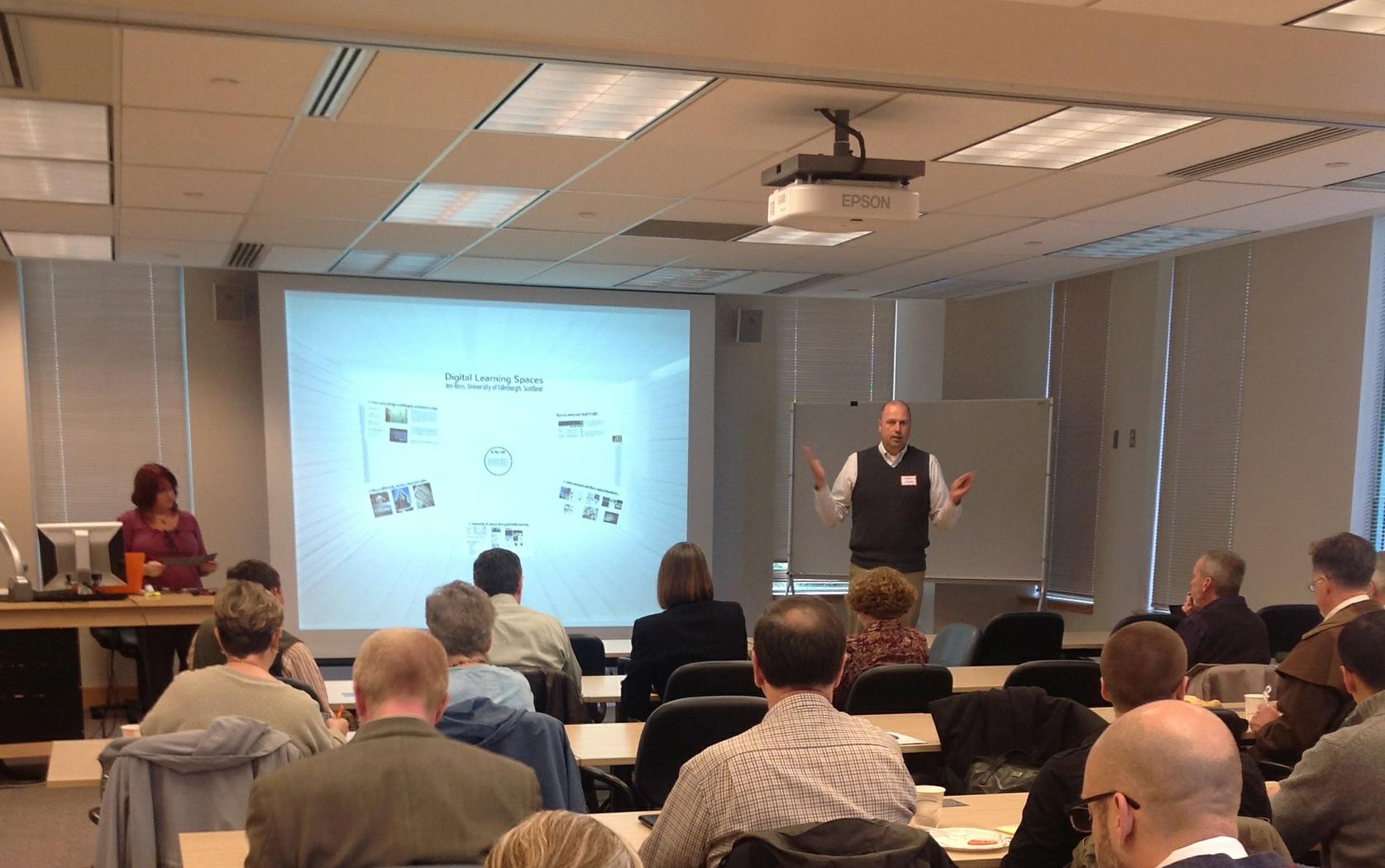 Educational Technology
David A. Wicks, EdD, joined the School of Education at Seattle Pacific University as an Associate Professor and Chair of the MEd in Digital Education Leadership after serving as Director of Instructional Technology for 15 years. Dr. Wicks has served the educational technology community in numerous positions throughout his career including: high school teacher, university lecturer, school district technology facilitator, multimedia author and project manager for an educational technology company.
Dr. Wicks' research interests include online and blended learning, learning spaces, computer-supported collaborative learning, and electronic portfolios. He is particularly interested in exploring how to enhance student engagement and achievement within digital learning environments.
Professor Wicks is committed to helping educators improve teaching, learning and assessment with digital tools. He actively shares and learns from teachers through social media. Examples of his work include: the design of a Web 2.0 electronic portfolio system based on WordPress, creation of a feature-comparison matrix for lecture capture solutions, and leading SPU's iTunes U project. He enjoys facilitating faculty learning communities on topics such as learning spaces, blended learning, and online learning. Dr. Wicks is a member of MERLOT, the Sloan Consortium, Northwest Council on Computer Education (NCCE) and the International Society of Technology in Education (ISTE). He serves as an Associate Editor for MERLOT's Teacher Education Editorial Board where he reviews learning objects and educational apps. He was recently honored for his work as conference chair for the 2014 International Symposium for Emerging Technologies in Online Learning.
Archives